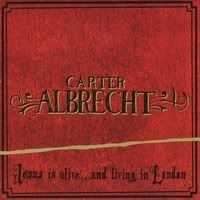 Carter Albrecht
Jesus Is Alive... and Living in London
Carter's CD (Jesus is Alive... and Living in London) is now out, on iTunes... :)
The official release date is coming soon.
To anyone who hasn't heard it: It is truly
amazing
. Carter comes through so much, and so honestly throughout the entire CD... I'm so glad it is out... and soon to be officially released, so other people can discover Carter and his music.
So, Check it out... and spread the word.... This album is his beautiful voice, and deserves to be heard... just like he wanted it to be...