Alrighty....
my traveling has kept me away from my "to do" list that is only possible to do in Dallas...
now that i'm moving to midland.. I'm here and trying to get months worth of things done in a few days...
I'm trying to see everyone... take care of business (really)....
But i want to catch everyone up todate... last weekend I went to Austin (or near Austin) with Sara Cris Aubrey and Chris... we signed up for the Cypress Valley Canopy Tours... it's a zip-lining course... it was so fun. A great experience, not as scary... and we were high up, but when i got up there, it wasn't as scary.... There were 5 of us, 2 guides/instructors, and two girls who made us look really good! They were from Lubbock, but somehow got lost for 5 hours and had to join our tour... seriously... they made us look like fast-learner-super-athletes! and even though they slowed us down timewise... i'm glad they were there.... for me (ego-wise)....
all kidding aside, it was really fun.
We all stayed at the lakehouse that night... I hadn't had a chance to visit with them for a while... I'm so glad i did...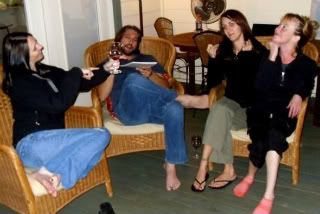 i love all of them... they are the real deal, dear friends..
the next day, Olospo played at a campsite near Dripping Springs... i brought Dylan... he ran and played and passed out while the band played, on his dog bed, under a towel... (he's like a parrot... put a blanket on him... and he's out.....)
later, i was tired and hungry so I drove in to Austin, saw Mons's new awesome pad and then met up with Charlie and Ash.... so good to see them!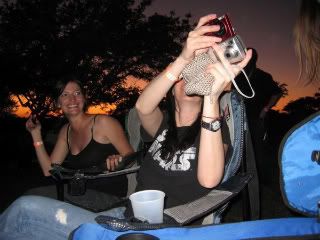 (and we took a lot of pics! look! here's sara holding two cameras!)
i'm glad i have internet tonight... i have more to write... but i'm going to separate it into several blogs... so no one gets overwhelmed.... well... i mean, me...
Love