my 15 minutes, of costuming, on halloween, at Walgreens (in Lockhart!):
I drove in from Dallas... just in time to make the Halloween/trick or treater/costume party in Lockhart, with one problem.... NO COSTUME!
I was at Walgreens... and they had kid costumes... and you know how fat kids are today... so I knew I could find a costume with elastic that would fit me in the kids' costume section... I looked, and AHA! A boy's ninja outfit.... I thought: I'll be a ninja!
<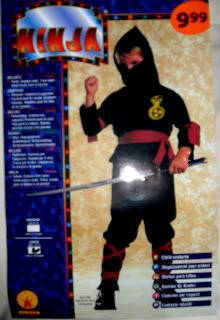 but on the way to the checkout line, I spotted this "bad fairy" wig... i'm not sure if it was just a BAD wig for a fairy... or a BAD as in "naughty" fairy wig .... either way, it was a bad ninja wig.... because the hood doesn't fit over the wig... but I rocked it anyways...
i decided I'd be a Japanamation ninja... but through out the night, it became more and more evident that I was like the cartoon from the esurance.com commercials... as a japanamationinja....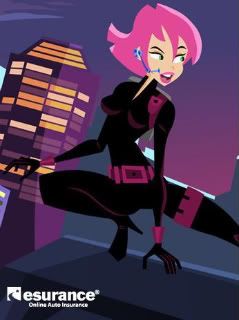 Steve was zoro.... he was costumed up with *gasp!* NO mask! Zoro HAS to have a mask... so I drew it in...
Steve set up a sound system at the house party we went to... when kids in their costumes would walk up to trick or treat... he'd freak them out with a really creepy, "happy halloween... hello (insert costume here)... welcome to the haunted house!" The kids were looking for "the voice" everywhere... and were freaked out... some of them had to be carried by their parents (who were cracking up) to the front to get candy... It was hi-lar-i-ous!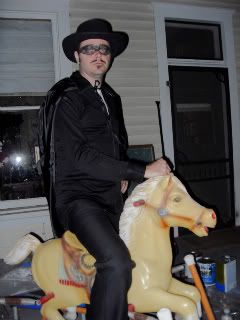 After that we went into Austin, met up with Mons and some of the guys' mutual friends.
Fat kid costume at walgreens + bad wig (fairy or not) + good friends (in costume or not) = great halloween and a lot of fun!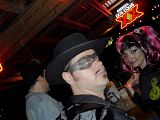 This is from Halloween 1983! i'm a bumblebee and Kel is a Lady bug! i remember that our costumes were puffed out with newspaper...