I had a good phone conversation tonight. (so, i DID end up blogging about this! heehee)
At one point I was told that I seem to be more about question marks than exclamation points... or ? vs !, or Soldiers vs. Hunchbacks... which I was told is an essay written by Alestier Crowley. (just so you know: I did find the essay online... and it was, just as I warned via text: "a little dry... about how to drive yourself crazy with philosophy." Very true... I skimmed it. So, I can't even say I really read it... )
I didn't take being a ? as a negative thing... but it made me wonder... is having more !!!!s better than ???s ? (another hunchback) I even took it as a complement! (and now a soldier.... notice the trend...)
It was a good question... and kept rolling around in my head... so here are my thoughts!:
I think exclamation points, are for moments: Yes! NO! A-ha! This! That! There! Question marks to me are more open... They don't have to be about asking questions for answers... but looking and examining... Exclamation points are black and white... where as question marks are the all of the shades of grey in between.
! are about me... or claims I stake... ? are about allowing and preparing for change, letting things happen, not exclaiming something as good or bad, but questioning the context, paradigm... being objective... like a good objective reporter who wants to know all sides. Being introspective... that's good!
The majority of my ?s aren't the kind that need answers, Im not looking for the future, or answers for it, I'm questioning what I'm thinking, feeling and doing: Is it working? Is it good? if not, what can I do to balance myself?
But I definitely agree that there needs to be both.... right?!?!?!? Maybe now they can live, no longer vs. each other, but in perfect Hunchback, Soldier harmony. Like ebony and ivory..... (okay... that was cheeeeeeesy). I don't like "hunchback" either... maybe a better name would be a curvy soldier...
Anyways....
So, I painted today... back to good ol' acrylics and patterns... It's kind of meditative for me to get into painting patterns... so I worked on it... ALL DAY... Not even close to being done: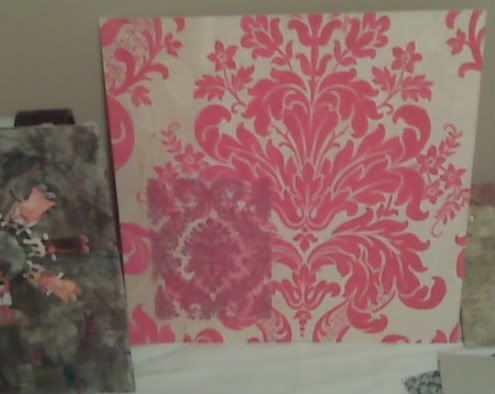 I also tried www.pandora.com for the first time today. I love it! It's free radio, and you pick out the music you want to hear, and they play similar artists, and you get to say yes I like that... or no I don't... It's like creating your own radio station! Sha boing BOING (okay that's a throwback to urbandictionary.com which was yesterday...)
Today, I was starting to miss my friends.... and got a little bummed... but then I received a couple of texts, calls and emails... from friends because they were thinking about me! It made me feel good... loved... and not forgotten... your timing was perfect! It's nice to know I'm not out of sight, out of mind.
Thank you!