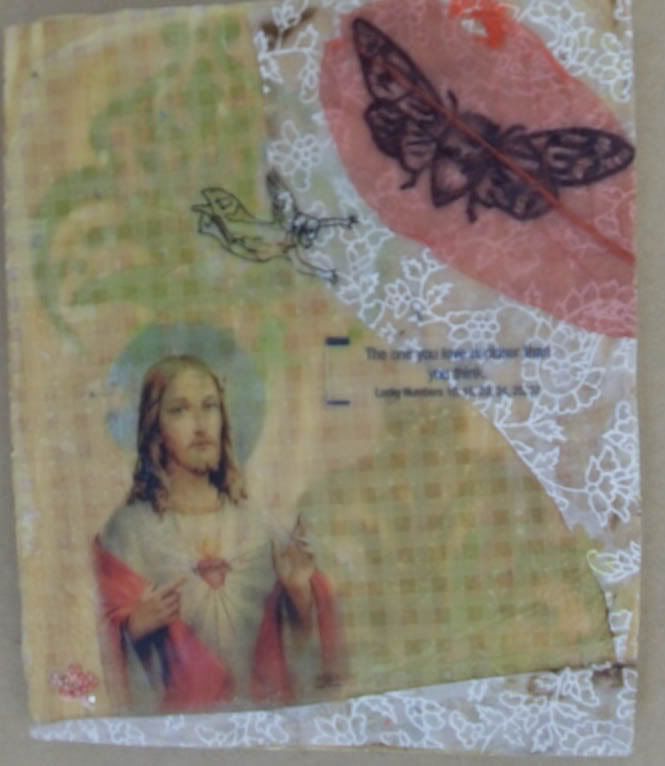 This piece is the one that my instructor thought was the strongest after the first weekend... I added the red leaf over the cicada... but accidentally dripped red wax on it... i need to scrape off the red wax, and add something over the Sacred Heart... don't know what yet...
So, after feeling slightly pressured into volunteering, I felt a bit trapped and anxious about it. I don't know why... but I did. So, I called and cancelled. I don't feel too bad about it, because I had only signed up at the last minute... with three people standing over my shoulder watching me fill out the volunteer form.
I drove to Asheville on Thursday night and stayed until Friday. Anne was in the encaustic class with me, and her father was having a party to unveil a portrait that was done of her.
Her family lives in Biltmore Estates... it's a really nice neighborhood in Asheville. The socialite scene was so different than the hippie/hipster side of Ashe-Vegas that I'm used to... Everyone was very southern, and very nice... but I really didn't feel like I was in Asheville... there was no stink of B.O. (I'm sure everyone there uses real deodorant, not the all-natural-doesn't-work-at-all kind), there were no tattoos or dreds... It was trippy to see that side of Asheville. Anne and her family are all so sweet.
I was really hungry and kept going back to the buffet table for more food... and then I got busted. A friend of her father's asked me if I was helping out, serving food... I was a little offended to be mistaken as "help," but then he clarified: "I've just seen you 3 or 4 times filling up plates." I was probably red, and like I'd been caught with my hand in the cookie jar, I told him, "no... I'm just really hungry." Jeez... why does stuff like that only happen to me.
Anne and her family (and everyone I've told) got a big kick out of that.
I also upgraded my Verizon phone to a Blackberry Pearl. I really like it... still getting used to the keypad... but now I can Google at will... and it's smaller than my other old phone... and it was free (after the rebate).
Anne told me her family was going to Banner Elk, and I was planning to go to back to Beech. My roommate came too... we all had dinner at that little tapas place... and then she stayed here at Beech... This morning we had breakfast with her dad and his girlfriend before they left to go back to Asheville. we're gonna stay at Beech tonight...Then I start to get ready for the return to Texas next week... I'm so bummed that the summer is coming to an end...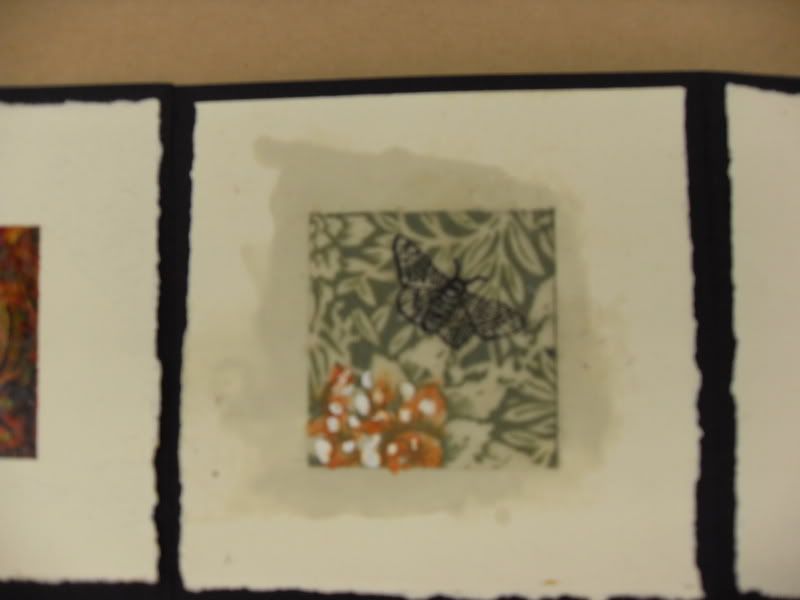 This is a 2"x2" encaustic piece I did on paper... everyone in the class did one and we put it together in a little book for the auction... I just wish that i'd known they weren't going to trim the edges.... it looks a bit messy...