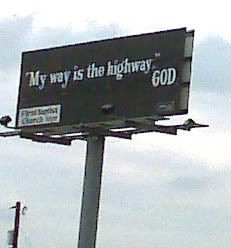 Yes... as I typed, "Life is a highway" I was singing along with it in my head.... But as soon as I took a picture of this billboard on I20, that song was in my head... It's catchy.... It's still a guilty pleasure of mine...
Another night that I'm up too late... I've been on a decent (DECENT) schedule the last 4 months, but since I've been here, I've been staying up WAY too late... why? I have no clue... nerves? I really don't know.
I've gotta be back in Dallas to film the Viera show on Thursday.... The show is called the "Art of Living Gallery" and they want to film me talking about healing through art.... I get nervous, VERY nervous, talking on camera... and in front of an audience.... I've been told that I hide it well... and I'm glad... but I'd really rather not be nervous at all. I'm hoping it'll be good... everyone at the network has been so kind and considerate...
They want to film me painting... so, I need to have Weds to set up... which means I need to leave Midland by Tuesday... And I'll be in Orlando on Friday! Very busy schedule... like I said ... I need a phone clone!
Today was a good day... no debates... no politics... no talk of religion... no fights... I saw a hummingbird today... I saw one (probably the same one) yesterday too... NOW I'm convinced the reason I never saw hummingbirds is I've always mistaken them for big bugs...
A family friend in Midland is opening up a gym for kids, it's a really neat and different concept of kids' gyms, and she named it Kidnazium., So today we all went and helped paint and unwrap the coolest kid stuff! I painted the front door and trim... it took ALL afternoon and evening... and it's still not done! It's "done" as in painted, but three times now, we've painted one color just to look at is and say, "no, that doesn't work... but (whatever color) instead might work" ... key word being: "might". :) I'm actually glad it took so long, because I had fun visiting with and helping out Tracy tonight... I'm really excited for her!
Dylan is softly snoring in his dog bed next to mine... this guest room has a pic above the bed that reminds me (for some reason) of Brokeback Mountain, but my parents don't agree..... what do you think?